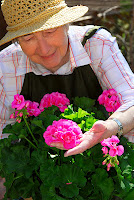 "Place the elderly in prisons. They will get a hot shower a day, video surveillance to ensure immediate nursing assistance (i.e., in the case of a fall – many elderly victims will be stuck for hours without assistance,) three meals a day, access to a library, computer, TV, and a gym. Put criminals in nursing homes. They have cold meals, lights off at 7pm, one bath a week, live in a smaller room and pay rent at $4,000 a month! It's pretty sad that we treat prisoners better than the elderly. (But not surprising.)"
In September 2011 this paragraph hit Facebook and thousands of blogs across the country. Though unsure of its origin, hundreds of thousands of people posted and reposted this paragraph to show their disgust in our country's health care system and in protest of the twisted idea of elder care.
Though, as Christians, our plight is to love our neighbor as ourselves, it's hard to find the justification in a system that seems this twisted.
Example: Marybeth had tried for days to contact her elderly neighbor, Stella. Stella had family but they lived out of town so Marybeth would check on her weekly to make sure she had food. Today, she called 911 and after hours of waiting for permission, firemen slammed in Stella's door only to find her at the foot of her steps, walker upside down, legs twisted, and deceased.
Stella received a minimal check from Social Security, barely enough to pay her power bill. She had no one to help her apply for food stamps and no money to even pay for a medic alert button. Stella died as a result of neglect.
Thousands of our elderly, our national treasures – warriors of this country's freedom and rights, are left to fend for themselves during a time in their lives when they are least able to manage.
Aging bodies take even the sharpest mind and deteriorate personal skill levels to a point of need. Some require massive assistance while others simply need help dressing. The point is simple. Do to others as you would have them do to you Luke 6:31.
Family is important and for so many who no longer have this luxury, it's a need that should be met.
Whom ever wrote the phrase, "Place the elderly in prison," may have had a point. At least in prison our national treasures would have care.
As the year begins, remember Luke 6:31. Remember our elderly and ponder on the fact someday you too will be in need. Cherish your aging parents, love your neighbor, treat others as you wish to be treated and lift a hand to assist our elderly. It may be you who is the difference in life and death.