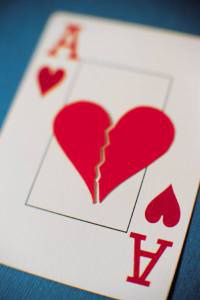 Abigail folded her hands and bowed her head. "Thank you Jesus for our food. In Jesus Name. Amen."
"That was sweet, Honey. Wasn't it dad?" Marilyn patted her aging dad on the knee. "Dad. Didn't Abby do a great job with the prayer?"
Her father stared at the table. He unfolded the plaid cloth napkin and placed it in his lap. Marilyn's teenage son gently nudged his grandfather's arm. "Green beans?" Still no response. Marilyn took the bowl and spooned a small helping onto her dad's plate. "They're cooked just like Mom made them. Big chunk of pork and simmer until tender. Salt. You'll love them Dad."
The tension was thick. The moment uncomfortable. And Marilyn couldn't ease the anxiety. Her had mother passed away a few months earlier and she'd moved her dad into her home so she could care for him.
Marilyn's dad poked at the green beans then scooted his chair away from the table and excused himself. He pressed his palm against his chest, and groaned. "My chest hurts."
Charles and Eleanor Morrison had spent 62 years of their lives together. Eleanor never left Charles' side after two strokes nearly took his life. She'd help him walk, literally helped him place food in his mouth when his face was numbed from the stroke. Eleanor was not only his lifelong soul mate, she was his caregiver…his life. So when Charles woke early that Saturday morning and she didn't roll over to kiss his forehead, life as Charles knew it…ended.
Marilyn and her sister made numerous efforts to help "snap" their dad out of his sadness but nothing seemed to work. A trip to the doctor gained the diagnosis of "Broken Heart Syndrome." Marilyn laughed. "You're not serious?" But indeed, the doctor was very serious.
Broken Heart Syndrome is in fact a very real diagnosis with patients experiencing:
shortness of breath
chest pain
irregular heartbeats
an overall general weakness
appetite loss
weight loss
depression and fatigue
According to Mayo Clinic the exact cause of Broken Heart Syndrome is unclear but when the body experiences a devastating event or trauma a surge of "stress" hormones are released (i.e. adrenaline) striking the heart and causing the symptoms to present.
Studies on the elderly show Broken Heart Syndrome is not uncommon for the surviving spouse after the loss of their mate. Stress, loneliness, depression all play into the effects. Insurance companies who pay life insurance benefits followed the mortality rate of widowers/widows to discover a higher mortality rate in the second spouse within in six months of the passing of the first. They also noted the loss of males surviving the loss of their wives was significantly higher than that of females.
What Do Families Do?
At best, the loss of an aging parent is difficult for children but the surviving spouse suffers far worse. It's important for families to realize they cannot set a time frame for grief. Where their lives move ahead with the busyness of their immediate families, the lives of the aging parent is far more empty. Children are grown, retirement has taken away the daily grind of work and the glaring fact of their own immortality looms as a reality.
There is no real "best" way to ease the symptoms of Broken Heart Syndrome but families can follow these suggestions as a guideline.
If the grieving process is remains severe after 60 days, contact the physician for a health exam
Plug into a grief/loss support group or become involved in an active Seniors group through local churches or the Department of Aging
Encourage walking (exercise strengthens the body and allows the mind to process thoughts without interruption)
Do not force the issue rather work with the physician and even grief counselor to help bring a parent into acceptance
If the symptoms listed above are continual…seek medical attention (Broken Heart Syndrome mimics a heart attack. It's always better safe than sorry.)
Encourage family members to renew relationships with the parent. Calls, cards, communication is vital.
Grieve WITH your parent. Sharing your own grief allows the parent to grieve as well. But be wise in how, what and when you share.
Don't try to replace the loss but encourage new adventures. Plant the seeds of activity so they can sprout.
Be sensitive to the emptiness your parent feels and love them even when it's hard.
Time is the ultimate healer and for some that time is longer rather than shorter. Nothing surpasses love and when families come together to support one another the process is bearable.

Courtesy of YouTube.com – Sept. 1, 2001
Photo courtesy of Microsoft.com free photo gallery