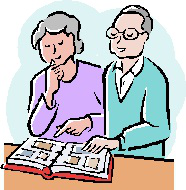 Aging, for most, is a harsh realization. One day you're in your prime the next you wake up older, a bit gray…a little slower. Time has suddenly slipped past. Somewhere between active and early morning stiffness, the line between middle age and elder blurred.
Albums line bookshelves and walls are covered in generations of photos that leave nail holes and dusty shadows on the paint.
I recently installed an emergency alert button for an aging friend's mother. Once the unit was installed I pulled the button from the box. My friend's mom stood staring at her living room wall covered in family photos.
"Here's your button. Just slip it over your head and wear it 24/7." Her stare deepened and I could tell she'd not heard me. "You okay?" I asked.
She jerked. "Oh, I'm sorry. I was just looking at my family."
"And they're a beautiful family." For the next half hour the woman pointed to photos sharing the relationship and sweet stories about each one. Before I knew, we were on the coach thumbing through old photos of her husband during World War II. For this woman, her walk through the family albums were bathed in the richness of cherished memories.
There is more to our elderly than creaking bones and sagging skin. In them we find our history. Our connection to what once was…different times, stronger values, ethics that seem to have slipped away from younger generations. Wisdom. Strength. The ability to seek out hope in a time when hope seemed fleeting. These are moments, we as baby boomers need grasp and hold.
Our world pushes us into an extensive busyiness, that in turn, forces us to allow the valuable moments found in our aging parents to slip past. We are their legacy, their contribution to the world. Take time and enjoy the richness found in your parents and grandparents. If you are fortunate enough to still have great grandparents, then do not let the opportunity pass to know the little things about them. Your life will be blessed and your appreciation for them and their struggles will become real.
In the midst of the dusty photos, you'll find the deep love and sacrifice our seniors have made so our lives are better. Our parents and grandparents deserve the best. Care for them as such.