Defy the Night – REVIEW
Monday, April 28, 2014 by Cindy Sproles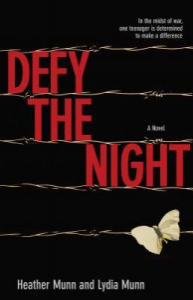 By Heather Munn and Lydia Munn Wow! Was I ever surprised. Defy the Night certainly did just that. The Munn ladies opened my eyes to the atrocities of war and the saving grace of kindness. The authors have taken real time events and towns, then carefully extracted the perfect balance of fact and fiction drawing us into a moving story of two women whose desire was to make "but a small difference." Paquerette and fifteen-year-old Magali, make it their goal to save as many as they can. The selfless ambition proved successful as they risked their own lives, working under the cover of darkness, to rescue children from Nazi internment camps. Their work dangerous and grueling, but their successes triumphant. This story is a must read if for nothing more than to remember those, who in real life, worked relentlessly to protect others from sure destruction. A well written story of strife, truth and decision, Defy the Night, hits the reader hard in the gut and makes them ask the question, "Could I have sacrificed so much for so little?" Mark this down as a book to follow on heels of Thomas Keneally's Schindler's List for memorability. Click here to purchase.
---
---