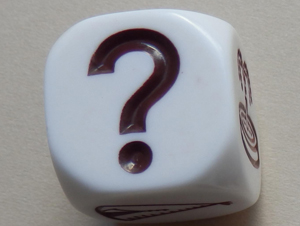 They remind me of rearing a two-year-old. Why? How come? Why not?
Though effective tools, questions are at times greater distraction in non-fiction works. Here's why.
When you ask a question, especially in the opening line of a work, the reader's eyes continue to scan the page, but their head stops at the question mark. They keep reading but the content is not absorbing. They're pondering the question. The sad thing is, they ponder…and ponder some more. Even if they finish reading the page, you've lost your reader. They retain little, if any, of the material after the question mark.
What happens when you pile on the questions, firing them at the reader one after the other?
Have you called your mother lately? What about, sent her a card? Have you let her know you love her? Have you taken time to let her know about your life lately? Why would you wait until she dies to wish you'd talked to her? Pity the reader and shame on you.
This is a common occurrence in writing non-fiction, especially in crafting devotions. We fall prey to the belief that if we ask the reader multiple questions they will ponder our impacting words longer. Nothing is further from the truth. Instead of leading your reader into a deeper thought process, you stop them almost immediately at the first sign of a ?
Questions are a valuable tool their placement must be strategic, and one that is important enough to risk losing your reader. In fact, the overuse of questions is a sure sign of lazy and lax writing.
It's easy to pose a question and breeze through writing a paragraph, but the real skill in crafting an amazing piece is learning to turn those questions into strong statements. Go back to the old tried and true process of "show don't tell."
When a paragraph is crafted with strong statements, the reader is moved to think deeper about their own actions. Let's revise the question paragraph above into statements and show you just how this works.
I couldn't remember the last time I called mom, much less when I'd sent a card. I tinkered with the box of letters. To Mom from your Son on Mother's Day. Merry Christmas Mom from Your Son and his Wife. My fingers walked through the stack of cards. Not one To Mom from Your Daughter. My brothers were always better at that sort of thing. Mom knew all about their lives, but me. . .I was just a shadow of a daughter. Now she's gone and all I have is regret.
Now turn this paragraph in to a devotional thought:
Regret is a terrible bedfellow. If you can't instantly recall the last phone call made to your mother, perhaps it's time reflect. Parents give their all to raise their children and though there is the exception to the rule, most only require an occasional call or letter keeping them up-to-date on our lives.
Just as there are exceptions for other rules, you'll find one for the question saga as well, but this self-editing tool will strengthen your work ten-fold. The rules always shift slightly when we enter the world of fiction where questions can become amazing hooks.
Writing is all about effective word choices. Every word, every placement of punctuation can grab and hold your reader or leave them stuck at the first line.
Craft your words so your audience reads from beginning to end without stop signs. The words you write are important and your goal should lead your reader to absorb every word—get the whole picture, not just a small portion.
Don't write as if you're a two-year-old firing questions at your mom. Write strong. Be meticulous with your words. Self-edit and tighten. Make the reader want to read because the sentences refuse to turn them loose.
Questions serve an important part in your writing. Learn to use them properly and let them turn your work into a moving and well-sculpted piece.