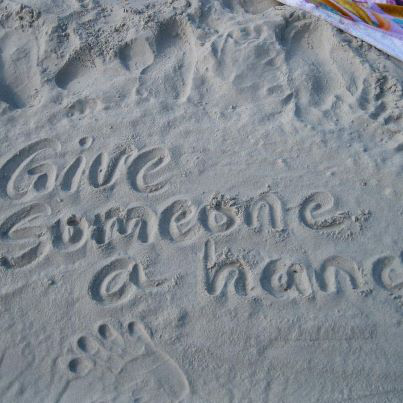 Some children just know. From an early age, they seem to have a unique connection to God. I can't explain it and I'm certainly not sure I fully understand, but I've seen it several times.
Take Missy for example. At an early age her parents divorced. The time she spent with her dad, a sincere and godly man, Missy was quick to learn scripture, be assertive to pray, even apply spiritual applications to life situations. As a young child, she wasn't afraid to proclaim her faith or encourage others to know Christ. Missy had this special connection.
When she was an elementary school student, Missy sensed the stress and sadness her father felt after his divorce. One afternoon, before her mother picked her up to take her home from a weekly visit with her dad, she took a quarter from her pocket. She taped it face up to the bathroom mirror then under the coin she wrote in lip gloss: In God We Trust.
That evening her father pulled a gun from the shelf with the intention of ending his life. When he flipped on the bathroom light and saw the coin and the words his daughter penned on the mirror – his faith was renewed. His life spared.
Missy knew early on, she'd be a missionary and as she matured, her eyes never veered. When she graduated college, Missy joined a mission organization who ministered to the women of Iran. Her identity had to be hidden, her life endangered daily, still she boldly worked with broken women in Iran. She knew from childhood she was called to be a servant.
It goes without saying, the guidance of the parents, their personal spiritual habits and boldness for Christ, has an impact on these children. The awareness of Christ as a reality is impressed very early on. I know. I was one of those kids.
My parents weren't in the ministry. In fact, my mother was the church goer in the family when my father did not come to Christ until well into my adult years. Mom made sure I was in church. She encouraged me to pray and to have a relationship with Christ, but she was not a parent who pushed. If I read my Bible, it was of my own accord. If I learned scripture – it was my own doing. Our family prayed at every meal, attended church every time the doors were open, but my mother never once knew of my special connection with God.
My brother, twelve years my senior, was grown and married by the time I was a third grader making us both, basically, only children. Though we had one family with four kids on our street, they lived in an abusive situation and many times were not allowed to play with me. Needless to say, if I was entertained, I entertained myself. I spent countless hours in the stand of woods behind our home, sitting in a burrowed hole in the big Elm tree or swinging on a grape vine my dad had sawed free from the root. There I created my imaginary friends, lived out amazing adventures, and grew to recognize the presence of God. I remember crawling inside the tree trunk and scooting close to one side so there was room for God to sit with me. We talked – or I talked, and He listened. When I was by myself, I felt His presence reassuring me I was never truly alone. I vividly remember feeling an impression on my heart, "Be my servant." For years, I brushed it off as my unique imagination pretending to hear God's voice and wondering if He sounded like my earthly father.
When I entered high school, I found myself alone at my locker more than with friends because I chose not to participate in drinking parties or drugs. I knew, as a child, God was calling me. Yet when I asked where, He did not respond, instead I continued to feel the impression: Be in the world not of it, my servant.
My youth was relatively happy. Of course, like any teen, I had my moments, but I never once felt as though I couldn't manage. There was always that special connection with God that spoke like a breeze to remind me the path I needed to follow. There was never any specific directions, only an impression as I made my life's decisions. Still I knew I was called.
Life situations forced me to make steps into places I was uncomfortable, through a marriage that failed and even life as a single mom. Regardless of the hardships, I knew the steps I made were steps that were not only leading me, but grooming me into the place God would have me.
Beth's son Jake was a rowdy six-year-old boy and when they involved him in tee-ball he immediately fell in love with the game. On the flipside, Jake loved Sunday school too. He was always plastered on the front row in children's church, engrossed in the stories of the Old Testament. Jake kept his Sunday school teachers sharp with the questions he posed about the prophets and the trials of Israel. At home, he was quick to remind his family if they were about to miss praying for a meal or lifting someone before the Father in prayer.
When Jake's tee-ball team was invited to play a game prior to the local Met's farm team game, his teammates was elated. High-fives and squeals filled the tee-ball dugout.
"Be at the downtown field on Sunday morning. 10:00 a.m." Their coach instructed the boys where to meet and what to bring. Jake slumped on the bench.
After the team cleared from the dugout, Jake approached his coach. "Coach, I can't come on Sunday. It's Junior Church Sunday. We sing for church and tell them how we have seen God."
"It's just one Sunday, son. God won't mind."
"Maybe not. But I will mind. I can't play on Sunday. I'll be at church telling everyone where I've seen God."
Beth and her husband were amazed. It wasn't them who said no to playing ball on Sunday – it was Jake. As a teen, Jake was fundamental in forming a local children's sporting program, bringing together various churches, their facilities, and staff to teach children about Christ while they learned to be solid in their faith and strong in their sports.
The call some children feel early on to be a servant is not to be taken lightly. But neither is the call we all are given as adults or believers in Christ. It teeters on whether we listen and take action. We are not all called to be missionaries or preachers, but we are all called.
For me, the call became clear at a writers conference – not just to be a writer, but to use that work as a ministry. The path was not easy. My ministry partner and I have hit bumps, but being a servant was never a question. The question was, when? And when we said yes, Christian Devotions was born.
Regardless of the talents we possess, the desire to give that gift back to God and let Him use it within us is the start of our servanthood. As Rick Warren said, "It's not about us. It's about God."
How that servanthood affects our lives depends on how willing we are to loosen our grip on what we desire and allow ourselves to be used in making a difference.
The making of a servant remains a part of us all but the willingness alludes many.
The question remains, "Whom shall I send?"
The answer. . .is up to you.