None of us wants to address death. Just the thoughts of losing a loved one will move us to tears long before the event. Still death is inevitable for us all. So the question arises, how do we face this issue, remain strong, and allow our aging parent the dignity they deserve?
It's a tedious balancing act. As much as we'd like to assume every family is issue free, they aren't. Many families face on-going sibling rivalry, family disagreement, and long histories of conflict. Add in the reality of an aging parent facing death, and the frustration only escalates.
Sadly enough, family conflict will sometimes outweigh the feelings and needs of the loved one. The resolution of family disagreement may never happen, but it can be laid to the side for a short time.
According to studies done from the American Association for Geriatric Psychiatry, terminal patients recognize end-of-life symptoms long before their passing. Though they have no idea when their passing will occur, many will begin to make preparations such as:
Will preparations
Family discussion on funeral arrangements
Distribution of meaningful belongings
Final conversations
Reminiscing
It's not uncommon to have grandma begin to distribute belongings she holds dear to unsuspecting recipients. It's important to remember, that though an ugly vase grandma kept on her dining room table may have no meaning to you, there is a special memory tied to it for grandma. She may never share the memory, or she may not know how to express the meaning, but to her, the vase you consider ugly . . . is beautiful and it means enough to her that she longs to share it with a loved one. When grandma offers the vase, accept it with love and joy. Show her the gratitude she deserves by allowing her the happiness of accepting it graciously. It's not about you – it's about her. If she is able, you may be surprised by the meaning and even more surprised if the object you've thought so ugly in the past, acquires a new meaning you now enjoy.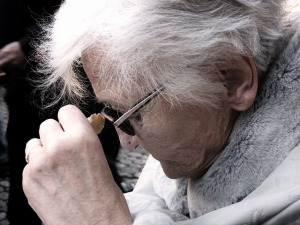 Listen to their stories even if you've heard them a hundred times. Listen closely for the details that may have passed over unwilling ears earlier. This is the legacy of your loved one. It's history. It's memories that, once the loved one is gone, you will cherish.
Find forgiveness. Perhaps you've been at odds with your loved one. For lack of better words, death is final. It's irreversible. It was once said, "Regret is a horrible bedfellow." The truth in this is overwhelming. There is no disagreement worth a lifetime of regret. Take time, if for no one other than yourself and your own future, to make amends. For example: a mother lost her estranged daughter in a car accident, her last memory was an argument three years earlier. As the daughter was laid to rest, all her mother could remember was three valuable years lost over bitter words.
The same thought process should be applied to learning to say I love you. Perhaps it's not commonplace for these emotions to be exhibited, but when you're approached by an aging parent who declares their love for you, return the courtesy. Your acceptance and gentle response, even if it is not your nature, will give peace and closure to a loved one facing their final months, weeks, or days. Once again, it's not about you (though you will benefit), it's about the loved one.
Family discussion over finances, wills, and personal effects can become heated and unfortunately no family, whether they are wealthy or poor, are immune to greed. If your family disagrees over possessions, make the effort to suspend those while your loved one works through the acceptance of their future. Despite the argument, allow your loved one to see a calm and peace for a short time. It's a kind act in their behalf. The life of the loved one is far greater than any possession.
What if the tables are turned and your loved one is the center of conflict? The greatest advice is apply the golden rule – treat others the way you would want to be treated. You are always the winner when you choose the high road, even when your loved one may be condescending or difficult. Keep in mind that at times the anger and frustration an aging parent experiences may be fueled by dementia or Alzheimer's. It may be spurred by disappointment in their own lives or things they have no control over – even the realization some actions of the past are unchangeable.
Ultimately we, as children, cannot repair the past of our loved ones but despite their obstinacy we can adopt an attitude of forgiveness – does it make the actions of those loved ones right? No. But in your own life, you will have peace for having "loved them anyway."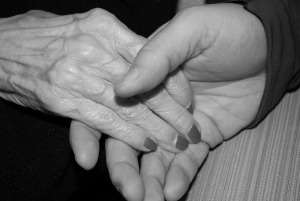 Our immortality affects us each one in a deeply personal place. We're forced to not only look ahead to the end but to look back over what has been. When your aging parent begins to make end-of-life preparations, spend quality time with them. Tell them you love them. Walk the path with them. Seek out their personal spiritual situation and guide them appropriately.
Saying goodbye is never easy but we can choose gentleness, loving ways, and understanding. The rewards for both the aging parent and for you, are immeasurable. Years after the loss, you can look back and say, "I'm glad I did," instead of "I wish I had."
Photo 1 courtesy of www.pixabay.com & Unsplash
Photo 2 courtesy www.pixabay.com & geralt
Photo 3 courtesy www.pixaby.com & Gaertringen