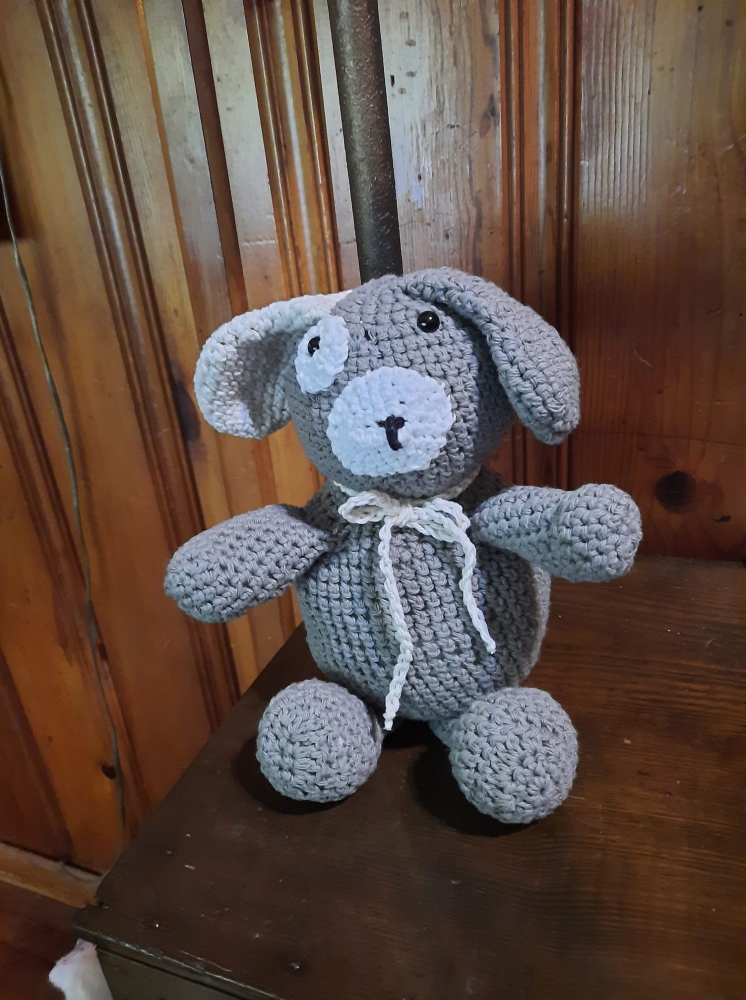 Wonky is hard. Plain and simple. Wonky is hard.
I recently set out to do a little crochet project for my younger grandson. At two, he watched me work on a blanket that was super soft. His only words. "Nana, mine?"
After I explained it wasn't his, I did give him a small blanket I'd finished earlier in the month and promised him a special animal. That's when the hard started.
I hunted my house over. Tore it apart, trying to find my animal crochet books. They were nowhere to be found. I hopped onto the internet and surfed until I found a new crochet book of animals and ordered it.
It didn't take long for me to fall head over heels for this cute little dog. I loved his floppy ears and button eyes. Little did I know, something so small was going to be so hard. These little guys are usually a simple single crochet stitch. Not this one. I spent days learning an oddball stitch that led me to work two or three rows and rip out one. Work two or three rows and rip out two. What would normally take a couple of evenings to turn out, took me six days. I was ready to scream. When I finished the little critter, I sat him on my shelf and cocked my head.
"He looks a little wonky, don't you think?" I asked my hubs.
"Nope. Looks cute. Sawyer will love it."
I eyed him for a while then posted his photo on FaceBook with the question, "Does he look wonky?" Of course, folks thought he was darling. They loved his one white ear and his quirky eyes. So, I named the little guy appropriately, Wonky.
Wonky was hard. I never thought in a zillion years I'd run into such a weird pattern but I powered through swearing to never do that stitch again.
This last year has been … well...wonky. I never imagined a thing like Covid or that an entire country would be sequestered in their homes. Who would have thought, hundreds of thousands would die worldwide over this nasty bug?
And when 2021 began the same as 2020 ended, I wondered if there was any good to be had. That led me to consider exactly what bad and good had transpired out of an otherwise – wonky year.
The bad:
Our church lost nine members in the short span of three months, one being a three-year-old child
We had multiple friends who grew very ill with Covid, including some extended family members
We lost some dear writing friends
My conference travel schedule was halted
The release of my novel squelched by Covid
My 94-year-old mom was sequestered for a full year from us in assisted living. Calling on the phone was the only contact we had.
Important dates were rescheduled or canceled.
Publishing work came to a standstill
We worried and fretted if we would be able to hold our conference in 2021 due to Covid
Christmas was a bust for family gatherings.
The good:
My husband became a cancer survivor – one who should have never survived...DID.
I spent good quality time with my adult son and husband as we weathered the Covid trail
We never contracted the virus
We never even got a cold
We learned to worship online and we were thrilled when our church family could come together again.
We saw kindnesses that we'd never seen, from folks we never expected to see it from
We never had trouble finding toilet paper
Our cabinets were always filled with exactly what we needed
I enjoyed cooking all over again and remastered good biscuits and homemade communion bread
We remembered the value of appreciating the little things in life
God was good to us by protecting us fully – especially with a hubby who'd just come through cancer surgery
We were gifted a vacation at the beach
My novel about a pandemic released in a pandemic year
We remained debt-free when others were sinking financially
We continued to do the food ministry fully gloved and masked, to bring food to those in need
Life was good despite the wonky and we are happy and healthy
Clearly the good outweighed the bad.
I think we prayed more. Talked more. Appreciated more than we for years. Yes, the year of Covid was hard but we weathered it. We didn't come out completely unscathed. It was more like a little inconvenienced, but we came out on the other side.
The more I look at Wonky the dog...the more I think, I'll make Sawyer a different animal and I'll keep this one as a gentle reminder that even in the wonky times, God is close at hand. Even when we think we can't survive, He breathes life into us. I think for that – it is all worthwhile.