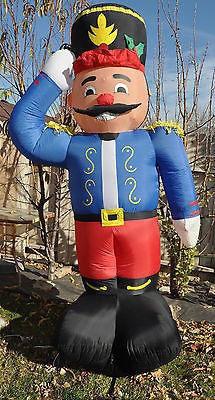 It's not hard to find our house during the holidays. Think Christmas Vacation and the Griswolds and you pretty much have us in a nutshell. Chase loves Christmas and yearly it's a battle to prevent him from spending all his hard earned money on Christmas blowups for our yard. There was a time when we literally had about 10 in our small front yard.
We had Snoopy and Woodstock, a polar bear, a merry-go-round, even a giant 10 ft. nutcracker that stood proudly by the fence, saluting everyone who drove past. And that is where our story begins. . .with the nutcracker.
Just to educate you on the joys of owning blowups for your yard, they come with skimpy little stakes and thin nylon cord that you are supposed to neatly clip onto the blowup and then plant firmly in the ground. These little cords hold your monstrosity straight for all the world to see. Once you get them in the ground you can prance around the blowups, eyeing their positions and being sure that yours, YES YOURS, are perfectly placed. That is unless you own pets, or it rains, or the wind blows pretty hard. Now you have issues.
Our Mr. Nutcracker stood so bravely in the front of the yard, in fact he was so prominant that folks driving by would wave at him. Not only did he bring Chase great joy, but apparently the neighborhood loved him as well. On any given day, you could mention where we lived and folks immediately connected us. "Oh you live in the house with all the blowups. . .and that solider (i.e. nutcracker). Love that guy."
I'm not sure it's a good thing or a bad thing when your home is recognized for the 10 foot blowup that salutes as you pass. Anyway, on with the story.
Remember I said those nylon strings hold unless you have pets, or rain, or wind. So true. I can't tell you the times the dogs would tear out of the house and into the yard tripping and rolling due to those nylon cords. Needless to say, we spent a lot of holiday time repositioning the nutcracker.
One morning we woke up to a pelting rain. Water puddled in our yard around all the blowups and of course when the dogs ran out to potty, they tripped and slipped making the puddles of water. . .muddy. "Should we turn those blowups off?" I asked the hubs.
"No. I think they'll just get ruined in the mud when the air goes out." He said. So we left them. Instead, we marched into the yard holding an umbrella, securing those nylon cords and stakes into the ground. "That oughta hold 'em." I said. And it did until . . . yes, until. . .
The wind began to blow. The thing was, I was cooking Christmas dinner and wasn't about to go back out in the rain and wind to check those blowups. It was one time I didn't mind if they just blew away. The day progressed and our phone rang. It was our neighbor across the street, hysterically laughing.
It took a minute to calm her enough to understand what she was saying, but the gest was, "Look at your solider."
I made my way to the window and it only took seconds to see why she was laughing so hard. The nylon cords came loose from Mr. Nutcracker's back and he had blown face down, still saluting. But what was so funny, was the arm that hung to his side caught on one of the cords and extended forward. Mr. Nutcracker was literally doing one-armed pushups in our yard. Every time he raised up – he saluted. Cars passed by blowing their horns. Folks slowed to a crawl to see Mr. Nutcracker's feat of strength. It was a sight.
After Christmas that year, we retired Mr. Nutcracker. His pushups caused a tear that we couldn't repair. He's still the talk of our neighbors. I guess he was a joy.
It's funny at the things that can bring us joy not only in the holidays, but year round. The holidays are hard for so many folks. We even have a little bump of our own this holiday season. A hoop we have to jump through to rid my husband of cancer, but the point is. . .there is joy even in the bumps and knocks. This year we are doing our best to count our blessings. We are looking over the things that make us belly laugh (like the memory of Mr. Nutcracker, who by the way, was replaced by Captain America. Yep, that's another post.) We have clung to the words that Paul spoke relentlessly. Rejoice in the Lord. Be grateful in every circumstance. God has begun a work in you that He will bring to completion. Love trumps everything. (of course those are my paraphrases). All that to say, look for the beauty in the holidays. Seek out the memories that warmed your heart and made you smile. Pray fervantly. And when you think of that baby in a manger, remember the amazing gift He was for you – is for you. One just for you.
***Photo courtesy of worthpoint store. Go shop there.