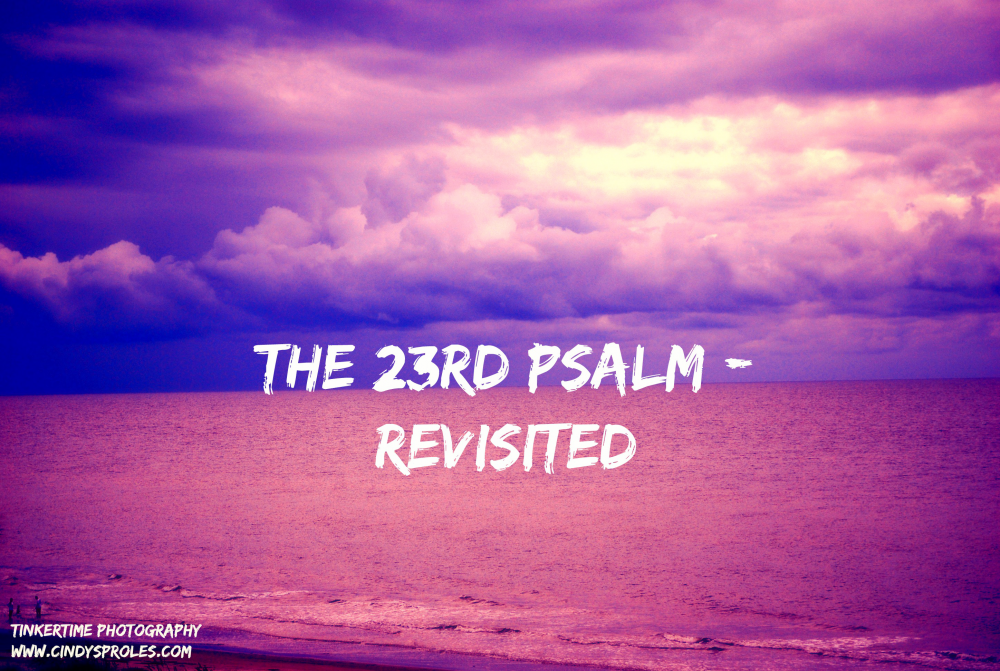 I love Psalm 23.
As a child, the twenty-third Psalm was the largest passage of scripture I had to memorize. Our Sunday teacher taught us a verse a week for twenty-three weeks. Before long, we had successfully memorized it. I'm ashamed to say, as I grew into an adult, bits and pieces fell from my memory. Still I love this scripture.
Pull out your Bible and visit this portion of hope. Grab a pencil and paper and write it down in your own words.
Here is my own paraphrase of the twenty-third Psalm:
Father, you are my caretaker and that is a pretty big job. You're patient beyond all measure. When I'm with you in heart and soul, I never need anything. Earthly desires fade away because you fill me completely. When I worry and fret, You remind me there is no need to do so. You quiet the rumblings within me and give me rest and peace. You provide me respite.
You always show me the direction I need to go, and sometimes nudge me when I ignore you. The ways You point me, fill me with truth and righteousness. When I fail to understand why things happen, I am given sustaining comfort and reassurance that You are with me and things will be okay.
I am amazed when hardships befall me and I am fearful, You protect me from the evils of earth when I am weak. I find comfort in Your word and peace in my prayers.
You ready me to face those who cause me pain and I am joyful because I have all I need within Your love, for it abounds.
There is no option but for love and goodness to be with me when I am following Your will and best yet, I have the hope and promise of eternity with You.
Take time to pull out that dusty Bible and look up Psalm 23. Read it. Rewrite it in your own words. You'll be amazed how you seek comfort from the Lord and how comfort is found.