The holidays are particularly difficult for aging parents, especially in a facility. Independent and assistive living coordinators do their best to provide activities that keep residents busy and involved. Still, the real loneliness sets in after the lights go out. For coordinators in nursing homes, the task of keeping residents involved is even more difficult because many residents are simply unable to be a part of things physically. Despite the efforts of well-meaning activities coordinators, time still ticks away, and memories continue to flood residents' minds.
Our task becomes helping loved ones trapse through the hard things and move into a new year. It's easy to look at the accommodations of a facility and remind loved ones of what is available to them but what we must remember is the independence factor that is missing. Regardless of our age, there is much meaning to being independent. Independence tells us we can still make decisions, do for ourselves, even plan out our own day. When that independence is lost, our attitude changes and a sense of helplessness will step up to the plate. Depression can, and a sense of hopelessness can take over. So, how do we help our seniors move into a new year in joy rather than depression?
Begin with encouragement. Rather than reminding seniors of what they have, remind them of their strengths and abilities. Encourage their creativity. Praise their gifts of humor and stories. Encouragement can quickly turn the tide for a senior who feels lost and forgotten. When we can convince our loved ones they have special and unique qualities that others can benefit from, a sense of usefulness returns. Encourage your loved ones.
*Look to the future and don't dwell on the past. One of the biggest stumbling blocks for seniors is the loss of their peers. Sometimes daily, they hear of the passing of a friend. This only serves to drive home our immortality and force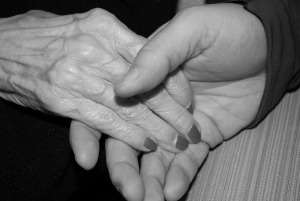 us to wonder when our time will come. Imagine how you would feel if you were one of the younger siblings and suddenly you were the only one left. You've outlived your parents and all your siblings. Suddenly, you realize you are the last of your immediate family – the family you were raised by and with. There is a rush of realization and fear that overcomes you. Not only is it frightening, but grief for a family past tends to haunt you. Our own mother experienced this earlier in the year. She suddenly realized, at 95, she was the last of her immediate family. Our role became to encourage her thoughts toward her children and grandchildren. She needed to understand this was not an end but the beginning of a legacy. She should share her wisdom and zeal for life with her grandchildren. When she realized her value and worth were as important now as when she shared it with her siblings, her attitude changed. She nows looks ahead with excitement instead of behind in sadness.
*Continue contact. Nothing combats loneliness better than a phone call and a visit. Make an effort to keep in close contact with aging parents. Include them in holiday planning and family gatherings. As humans, regardless of age, we long for interaction. We are creatures that need touch, closeness, and conversation. Keep the lines of communication open. Visit and talk regularly with your seniors to help keep them informed and feeling productive. We all need the attention of those we love. The best part is our gift of conversation and time is free. It doesn't cost us a penny. Spend quality time with your loved ones. The day will come when you cannot.
Kick off the new year with joy and encouragement. Cherish the time you have with your aging parents. Laugh with them and tell stories. This is how memories are made. And when the tables turn, and you are in their position, you have hopefully laid the pathway for your children.